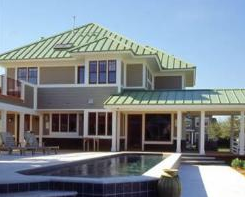 Commercial and residential installation.
Metal roof architectural sheet metal roofing
Customized sheet metal fabrication of cornices and copings
Metal roofing is non- combustible and provides fire resistance
Resistance to adverse weather and climatic changes.
Metal roofing comes in a variety of colors and materials copper, galvanized and aluminum. Double lock standing seam is the most durable standing seam roof metal roofs come in a broad spectrum of colors and designs.
They are fire resistant, low maintenance and long lasting, resisting discoloration, mildew, and decay.
Metal roofs also are wind resistant, water, snow and ice shedding, as well as hail resistant metal roofs are energy efficient. Top of the line. Installing a metal roof will increase the of your home or commercial building.
New metal roof systems, repairs, replacement, water tables, returns, bay windows, copper bay windows, chimney flashings and step flashing.
Type of materials we use Metal, Aluminum, Copper.
Brands: Petersen Aluminum and Mc Elroy
Offering our services to do work on residential homes, churches, condominiums, apartments, shopping centers and commercial buildings.